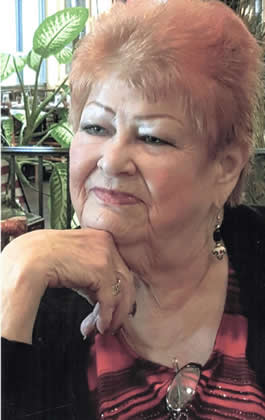 Vernita Marie (Dean) Martinez
Vernita Marie (Dean) Martinez, 75, of Iowa Park, Texas, passed from this life November 28, 2020. She was born March 14, 1945, in Ryan Oklahoma, to Vernon B. and Juanita M. Jackson Dean. She was married to Jessie J. Martinez March 24, 1978. He preceded her in death March 2, 2008.
She attended Wichita Falls High School. She worked most of her life in the food industry, Junior's Truck Stop, Dairy Queen and Bill's Fish House. She lived the last year and a half at Advanced Rehab in Wichita Falls. She was a "people person".
She was preceded in death by her husband Jessie Martinez, her parents, her children's father Thomas Joe Dickson, and her sister Shirley Neal.
Survivors include: her children: Joe Dickson and his wife Elizabeth of Colorado Springs, CO, and Angie and her husband Tim Hutchinson of Iowa Park, TX; her sister Lorraine Davis Wooten and her husband Gil of Wichita, KS; grandchildren - Shawn Hutchinson and his wife Amber of Ft Worth,TX, Leah Dickson and her wife Skyler Arnold of San Antonio, TX, and Cody Dickson of Colorado Springs, CO; great grandchildren - Aiden Dickson of San Antonio, TX, Colton and Paislee Hutchinson of Ft Worth, TX; and nieces and nephews - Melissa Cobb, Tisa Mayes and her husband Donald, Lorrie Briggs and her husband Roger, Bobby White and his wife Michelle, Lane Davis and his wife Mary, Lance Davis and his wife Arielle and Lyle Davis and his wife Crystal; and a host of family and friends that loved her.
Funeral services will be held at 2:00 PM, Wednesday, December 2, 2020, at the Dudley Funeral Home Chapel in Waurika with Shawn Hutchinson officiating. Burial will be in the Waurika Cemetery under the direction of Dudley Funeral Home. Visitation will be Tuesday from10:00 AM to 7:00 PM with the family receiving visitors from 5:00 to 6:00 PM. Memorials may be sent to the American Cancer Society. The family requests that masks be worn to the service in light of the recent Covid 19 situation.