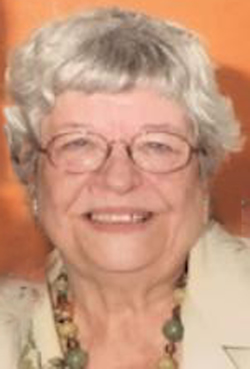 Mildred Charlene (Snider) Brown
Mildred Charlene (Snider) Brown, 84, of Waurika, Oklahoma, passed from this life November 21, 2020, at her home in Waurika. She was born February 26, 1936, in Waurika, Oklahoma, to Roy and Mildred (Marquardt) Snider. She married Homer Gene Brown May 31, 1952.
She was a homemaker who enjoyed sewing and cooking. She made a lot of her grandkid's clothes, including Christy's cheerleading suits. She was a member of the Jaycee Jaynes, a founder of the Waurika Rattlesnake Hunt, and a member of Waurika First Baptist Church for more than fifty years.
She was preceded in death by her husband Homer Gene Brown, her father Roy Snider, mother Mildred Snider Boren, stepfather Hoyt Boren, brother Kenneth Snider and step-brother Garland Boren.
Survivors include: her sons Mike Brown of Haileyville, OK, Greg Brown and his wife Donna of Waurika, OK, and Mark Brown and his wife Debbie of Nocona, TX; siblings Betty Morris, Larry Snider, Anthony Snider, Tim Boren, Duane Boren, Don Boren, Diann Sullivan, and Darlene Skinner; grandchildren Christy, Bubba, Sarah, Tyler, Miranda, Brandon and Shane; fifteen great-grandchildren and one great-great-grandchild.
Funeral services will be held at 1:00 PM, Saturday, November 28, 2020, at the Dudley Funeral Home Chapel in Waurika with Mike Bates officiating. Burial will be in the Waurika Cemetery. Visitation will be Friday from 10:00 AM to 4:00 PM and Saturday from 10:00 AM to noon at the Dudley Funeral Home Chapel in Waurika