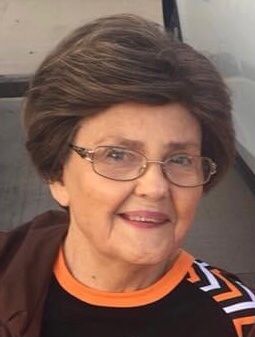 Neta Sue Miller Morris
Neta Sue Miller Morris passed from this life Sunday, July 11, 2021 in Waurika, Oklahoma at the age of 80. Sue was born August 27, 1940 in Waurika, Oklahoma to Ervin "Slats" and Pauline Mason Miller. She married Bobby Gerald Morris April 29, 1957 in Ardmore, Oklahoma. They moved to California the day after they were married, where they lived briefly before returning home to Waurika. Bob preceded her in death December 24, 2014.
Sue was a homemaker until her children were grown and then went to work for her daughter and son in law at Eck Drug as a Fountain Attendant. She made many special friends while she was there. She was also a devoted Christian and member of the Waurika Church of Christ.
Her children, grandchildren, and great grandchildren were her pride and joy.
She is survived by her children - Valarie Eck and husband Biff of Waurika, Oklahoma, Sherry Kettner and husband Scott of Edmond, Oklahoma, Kerry Morris of Oklahoma CIty, Laura Earley and husband Jerry of Ponca CIty, Oklahoma, Marsha McCarroll and husband Jason of Waurika, Oklahoma and Robert Steven and wife Brittany of Waurika; grandchildren - Jacob, David, Danielle, Lauren, Shawn, Abigail, Holly, Jamie, Joshua, Jennifer, Ethan, and Janie Sue; great grandchildren - Austin, Allison, Adysen, Emma, Nick,Jace, Isaac, Otis, Lincoln, Violet, Brock, and Sloan; and one sister Joyce Ellis.
She was preceded in death by her parents, one brother - Eugene Miller, and her husband.
Funeral service will be Saturday, July 17, 2021 at 10AM at the Waurika Church of Christ with Tommy Maxwell and Noel Curington officiating. Burial will be in the Waurika Cemetery under the direction of Dudley Funeral Home in Waurika. Visitation will be Thursday from 10AM-5PM and Friday from 10AM-7PM with family receiving visitors from 5-7PM.